I was inspired to write this post after watching this video.
If you already have great sculpting skills this may not have an effect on you at all.
But if you're like me and don't have those skills (yet), this may blow your mind.
I am totally in awe of how Rick Baker took a two dimensional sketch and turned it into a three dimensional work of art.
Then it hit me.
I can't draw a lifelike figure yet. I gotta be able to do that before I can even touch a slab of clay.
How do I get this good?
Teaching myself always scares me. Especially when I see results this good.
I just want to be this good.
To get me there I checked actual makeup effects school curricula to see what they teach in the beginning.
What would I need to learn to get my sculpts looking as good as Rick Baker's?
The answer stuck out like a sore thumb.
Anatomy.
Here are some links to some really great sites that helped me learn facial anatomy and the different expressions of the face.
(That's Art Anatomy.) You're gonna love this site. This completely free resource is a web based tool that shows you all the muscles of the face and how they're used.
It gives you the names of the muscle, a simulation of their movement, even examples of the expressions the muscle takes part in.
Just visit the site and click on "application" located at the bottom. I encourage you to read the intro as well. A lot of work must've gone into developing this tool, so any support is appreciated, I'm sure.
The Hair and Makeup Artist Handbook has a sweet, concise write up of the structure of the face including names of skull bones and facial muscles.
The major terms are described, and it gives you a very good starting point on learning face anatomy.
For example, I learned that a face is equal to the width of five eyes, from ear to ear. Visit the site to see more.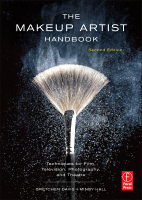 Gretchen Davis is one of the authors of The Makeup Artist Handbook, a great resource for makeup artists. She is also the author of this article.
This link gives you the opportunity to read the first chapter of the book for free. The chapter is about the structure of the face and how it relates to how we apply makeup. And did I mention it's free?
The link to download your free copy is at the end of the article.
 *Please note that the photo of the book pictured here is an affiliate link to purchase the full version on Amazon. See my affiliate disclaimer here. The free chapter can be found by clicking the paragraph title.

I found a gazillion facial expression reference sheets, both drawn and photographed.
I thought this one was the best of what I found.
I can't really think of any expressions that were left off of here, and there's enough to work with if I figure out a new one down the line.
What I've seen artists doing is sketching out several different facial expressions as a way of studying facial anatomy.
I think this reference sheet is a great one to follow.
Got any tips on learning facial anatomy? Let's here 'em in the comments.
*Top photo courtesy of Scott-Eaton.com.